Will LeBron James Win the MVP?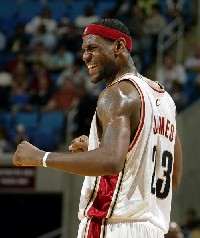 Last season the home crowd chanted almost in every game MVP for LJ. But that wasn't enough to get him the MVP award after the team took a deep dive at the end of the season and missed the playoffs by one game.
But this season is going to be different. Five ESPN.com experts voted for LeBron to win the MVP award in the 2005-06 season. Followed by Tim Duncan with 4. Shaq, Koby, and Ron Artist tied with 2 votes and T.Mac got 1 vote.