Lebron James Was Rated Higher Than Cover Athlete Kevin Durant in NBA 2k15 Video Game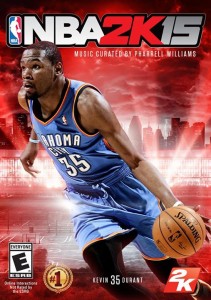 2K Sports revealed its player rating in the upcoming video game NBA 2K15 with Lebron rated higher than cover athlete Kevin Durant. Â Also, Â 2K Sports has chosen to completely switch up the way they rate players in the upcoming game, with only four players rated higher than 90.
Lebron James tops all current rating at 98, which is down from 100 last year. Kevin Durant follows at 95, and Tim Duncan at 90. The newest Cavaliers member, Kevin Love came in at 89.
Players with more well-rounded skill sets seem to be getting greater credit in the overall ratings this year than in the past as opposed to those that excel in some areas but are weaker in others
98- LeBron James
95- Kevin Durant
90- Tim Duncan
89- Kevin Love
88- Tony Parker, Dirk Nowitzki, Russell Westbrook
85- Kawhi Leonard
84- Serge Ibaka
83- Andre Drummond, Manu Ginobli
82- Monta Ellis