Face of USA Basketball, Kobe or Lebron?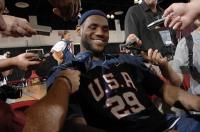 The Face cannot have blemishes which mean no bashing teammates, demanding trades, slamming management or otherwise shady behavior.
"The 22-year-old star is wise beyond his years and arguably the best player on Team USA – and he does it all without toting a bunch of personal baggage. He dances on stage at the ESPYs, will host "Saturday Night Live" and meshes all of it with basketball in a seemingly effortless way. And we like to see him – not in train-wreck Kobe fashion – but because we actually like to see him." Chris Dempsey of The Denver Post said.
Marc Spears thinks Kobe should be the face of USA Basketball:
"Bryant led the league in scoring last season. He has three championship rings. LeBron James is just getting started. While "King James" truly is a talented player, he has a long way to go to match Bryant's résumé."
Source: The Denver Post