Dash Cam Video From The Night LeBron James Was Ticketed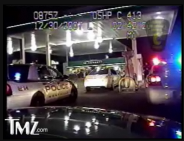 Only TMZ can do things like this. Apparently they were able to obtain the video from the night LeBron James was ticketed.
There is not much in the video. All you can see is his white Mercedes stopped at a BP gas station and surrounded by what it looks like three cops.