Cavs Unveil Alternate Uniform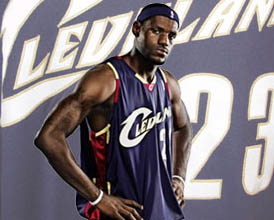 Wine and gold are thought to be the tried and true colors of the Cavaliers, but all this time hiding in the wings is another team hue just waiting to make it's official debut navy. The wait will be over on Saturday, November 26th when the Cavaliers unveil their secondary road uniform on the homecourt against the Minnesota Timberwolves at 7:30 p.m. at The Q.
SPECIAL PROMOTION: Fans can pre-order the jersey beginning tomorrow — Saturday, November 19th through Tuesday, November 22nd and receive a free gift for shopping early. A free t-shirt comes with adult sized pre-ordered jerseys and youth sized orders will get a choice of a headband or wristband. Pre-orders will be available for pick-up or delivery on November 26th. Again, fans can participate in the pre-order promotion at the Cavaliers Team Shop, www.cavs.com or by calling 1-800-252-6061.